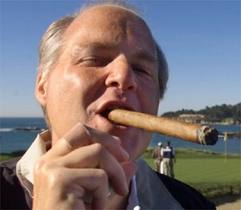 I write ads. I write dating profiles. I write a blog about men, women, marketing and pretty much anything  related as long as it amuses me.
The big news this week is that advertisers are pulling out of Limbaugh's radio show faster than a couple having unprotected sex.
It seems that Rush offended a few people when he called Sandra Fluke a slut. Apparently, he went too far this time, though obviously not when he said:
If Obama weren't black he'd be a tour guide in Honolulu.
Or when he said: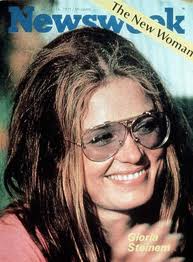 Feminism was established so as to allow unattractive women easier access to the mainstream of society.
Or when he said:
Our political correct society is acting like some giant insult's taken place by calling a bunch of people who are retards, retards.
Or when he said:
When  a gay man turns his back on you, it is anything but an insult. It's an invitation.
Or when he talked about Michael J. Fox:
He's moving all around and shaking and it's purely an act. … This is really shameless.
Or when he…I presume I've made my point…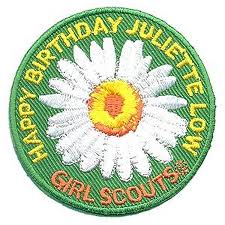 To Geico, Sears, Netflix, JC Penny, Goodwill and all the other advertisers who could no longer abide their financial support of a hate-mongering, racist, discriminating host when he called a woman a slut – my sympathies. I extend special condolences to the Girl Scouts of Oregon and Southwest Washington. I can't imagine your shock.
As such, I dedicate this blog to all of Limbaugh's morally outraged advertisers. Though torn between hypocrisy and situational ethics, I finally settled on "breaking up" as this week's theme.
Morgan Freeman dumps granddaughter and other fresh splits.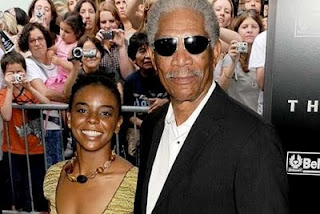 In other news about girls…
Though rumors of the breakup are premature (so to speak), it appears that the bond between grandfather and granddaugher has been shaken – Morgan and E'Dena are no longer an item. Too bad, she was growing into such a fine young, young, young lady.
Looking back, Morgan suffered great loss thanks to his timeless love for E'Dena. It not only contributed to the breakup with his wife Myrna, but also to the breakup with his mistress Mary Joyce. Nevertheless, there are about 500,000 babies born every day, so I'm sure he'll do fine. The Hollywood Gossip lists other celeb breakups, but the news is still in its infancy.
The heartbreak, the tears and the cost of breaking up.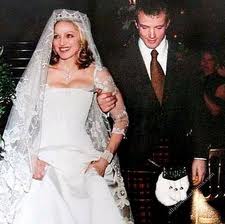 When "death do you part" doesn't work, you can always move in for the kill by taking a stab at the ex-lover's money. This article in EzineMark.com lists some of the world's most expensive breakups. Obviously Rupert Murdoch made the list, as did Steven Speilberg.
In a poignant moment of irony, the Material Girl lost over $76 million to Guy Richie when they divorced. Talk about justifying your love, eh Madge?
 Offensive ad or offensive reaction?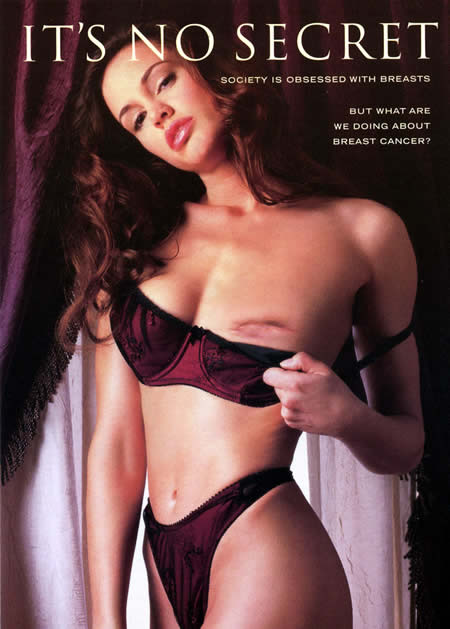 Apparently this ad for The Breast Cancer Fund was rejected by advertising spaces run by Viacom over "fears that its depiction of mastectomy scars would prove to be too shocking to the public".
Obviously the rate of breast cancer isn't quite as shocking.
By the way, Time ran an interesting article on how the color pink could backfire in breast cancer awareness ads.The psychology of color and human behavior demonstrate just how complex marketing is.
Great ads only seem to be effortless. The attention to detail is remarkable.
On that note, I write online dating profiles that go beyond being well-written. They too are highly-strategic. Every word is deliberate, every segue carefully considered. In addition, I write them in a way that's true to the person I represent. In fact, clients always say, "That really sounds like me!".
See the difference ad writing (versus regular writing) makes – check out my samples of online dating profiles and LinkedIn profiles. Better still, get started by completing the online personality quiz. It's the first step to a great online dating profile. The second step is to hire me.
Also, if you like what you've read, then join me on Twitter and Facebook page.