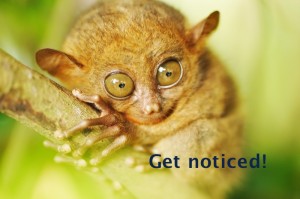 As an ad writer, I've spent years convincing people to pick one product over another.
Now, as an online dating profile writer, I use that training to help singles be chosen online (check out my online dating profile samples and see the difference ad writing makes).
Because of my work, I'm always on match.com, okCupid and other dating sites scanning random profiles to stay up-to-date on behavior and writing trends. In doing so, I've noticed that the best online dating profiles for men and women share certain traits with great ads. Here they are:
The best online dating profiles have strong openers.
They don't begin with "thanks for reading my profile" (yawn), or "I'm not good at writing about myself" (another yawn), or clichés like "live, love, laugh" (yawn plus the sudden urge to burn all copies of The Secret). Nor do they begin with a list of depersonalized adjectives:  I'm fun, happy, active and hard-working.
A good online dating profile engages the reader right away by saying something interesting and unique. Check out my examples of online dating profiles with great openers.
The best online dating profiles have clear offers.
When you write your online dating profile, you need to be clear about who you are by providing a glimpse into your life. After all, if you're looking for someone to share it, then you need to make clear what they're getting into. So make your energy level (are you excitable, laidback or somewhere in the middle?), your interests (pick some of the more unique ones like gargoyle collections versus watching movies), and your fun quirks very clear. The more defined you are, the more likely you are to be chosen by someone who wants you for "you".
The best way to be distinct is to highlight the aspects that make you unique and the best way to do that is through anecdotes. Everyone shares common adjectives. However, no one can claim your anecdotes.
If you need help finding the stories and aspects that make you unique, be sure to take my personality quiz. It's a great tool and it's where all good dating profiles begin.
The best online dating profiles are concise.
I spent years writing 30-second radio and television spots. I've also been trained to keep web writing within the industry standard – that is, 250 words. In doing so, I've learned that's more than enough to get attention and keep it.  Make your personal ad too short and people will feel you haven't made an effort. In addition, you risk not giving readers enough information to send an ice breaker. Make your personal ad too long and you risk losing their interest and imposing on too much of their time (which can seem needy). So keep your dating profile at about 250 words and use short paragraphs that aren't much longer than 50 words or so.
On a final note The two most important things in life are finding love and finding a job. Yet, most people don't put anywhere near the effort into their online dating profiles as they do into their LinkedIn profiles and resumes.
If finding love is important to you, then get expert help. I'm trained to make you stand out and get noticed. I also use all your words and anecdotes so that it's a true representation of you.
See for yourself. Check out my online dating profile samples or go straight to the online personality quiz then submit the answers to me. You'll be amazed at what I can do with them!