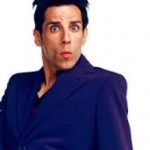 Ben Stiller's duckface in Zoolander was hilarious because, well, it was meant to be. It was a comedy.
Since then many people, my misguided gender in particular, have adopted the look with equally entertaining results: Miley, Kim and Snooki, to name a few. Oh and that astronomically big boobed woman married to Ice T.
Duckface is no sexier than a waddle.
And yet…
Take one look at Plenty of Fish and suddenly you'll find yourself greeted by a sea of them.
Convincing women to stop doing this is about as easy as convincing men that they shouldn't post fish photos on dating sites. So, instead, I've given up and am giving in by providing three tips to "not entirely ridiculous" duckface photos (after this very very funny duck video)!
3 tips to a better duckface.
1) Go easy on the lip pushups.
When you push your lips out too much yours could end up looking like Lisa Rinna's pumped up puckers. Instead, very slightly pull in the corners of your lips to give the illusion of a smaller, fuller mouth.
2) Keep your eyes open.
For one, it'll give you one more opportunity to see how silly you look so that you change your mind. Failing that, it'll keep you from wrinkling up your face too much.
3) Look up at the camera.
Make sure the camera lens is above your eye level. Looking up, with your head tilted down slightly, might capture that adorableness you are inconceivably trying to achieve.
3 even better tips to a great online dating photo.
1) Have a seat.
A great way to relax and look natural in front of the camera is to have a seat and make yourself comfortable. Cross your legs. Put your elbow on your knee. Lean forward into your hand. Sit on a log, on the ground, or on a boulder. Better still, be unique and take a shot of you sitting on a car! The point is to be spontaneous, have fun and avoid being phony.
2) Show your good side.
Side lighting is perfect for making features pop out. It's far better than front lighting (which is made even worse with a flash). For outdoor shoots, try to schedule time in the morning or afternoon so you can avoid the glare of a noonday sun.
3) Smile, yes smile!
I read "research" on whether or not singles should smile on their dating profiles. But I'm skeptical. After all, just because something's been researched, doesn't mean it's been researched scientifically. Fact is, most ads show models flashing their smiles. That's because good advertisers know that a warm smile elicits trust and likeability (key traits in successful online dating).
And finally, the best online dating advice ever.
Let me help with your presentation. Have a look at my services. You'll see that I do phone consultations where I critique everything from your photos to your dating profile. I also offer profile writing that includes photo selection.
It begins with a personality questionnaire and ends with a dating profile customized using your expressions and anecdotes so that it's true to you. Is it honest to hire an online dating profile writer? 
Still not sure, then have a look at my online dating profile samples.