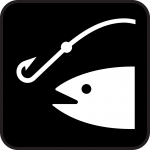 See what I did with my headline? I gave it a sensational quality, but for no reason. It's called bait and switch. It's a form of advertising writing that uses deception to attract people to a product or service. It fools them into thinking they'll be clicking for one reason, but when they do – it's not what they expected.
It's an old trick and I just I fell for it myself.
I was scrolling through online dating profiles that I could review for this blog, when I saw one with a sweet headline. It was so sweet in fact that it actually used the word sweet in it. I was delighted that I'd found a wholesome profile that I could review –  and I took the bait.
Imagine my surprise when the first line ambushed me with a total dressing down (and not the sexy kind). Here's how this presumably sweet profile began:
I heard online dating sites had perverts and they were right. If you think inappropriate comments about my body and sexual questions are ok don't contact me!
Ouch.
She then when on to suggest that she's fun and loves to laugh…Um, sure…castrating complete strangers is so "Laugh Out Loud".
That was about the extent of her profile. She said little else about herself, her priorities in life and her interests. At no time did she make up for her initial rudeness and presumptuousness. Nor did she ever demonstrate any activity or trait that would imply she was fun.
Bittersweet perhaps? No, not that either.
Needless to say, I wasn't convinced that she was anywhere near as sweet as she initially proposed. I'd lean toward bitter and no sweet whatsoever.
Furthermore, she assumed that a pervert would have the decency to abide by her condition and leave her alone (perverts as a rule are not upstanding guys who give a damn whether or not a woman likes to be disrespected).
So to recap:
1) she opened in a boorish and critical way
2) to dissuade guys who don't respect women, let alone their wishes
3) only to risk turning off the very guys who do respect women
Oh brother.
The top tip to turning off duds dating online?
Here goes…
it's brilliant…
get ready…
The top tip is…
Delete their emails. That's it. It's not complicated. Just delete, even block. No need to waste precious opening space with demands that will never be met anyway.
Your opener is one of the most important parts of your online dating profile. It has to make someone feel good about you. Don't blow that first impression.
For more tips on writing your online dating profile – especially with regard to handling bad prospects, be sure to watch this quick interview I did on Breakfast TV.
Also for a free tip specific to your online dating profile, sign up for the newsletter. I'll review your profile and get back to you within 2 working days.
Finally, don't miss all the posts on my Facebook page! The page covers everything from ads and personal branding to dating and LinkedIn profiles.