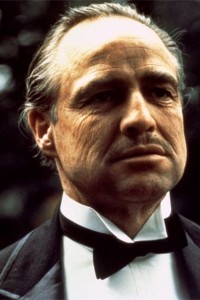 A friend of mine had been a highly valued sales executive for an organization that relocated. He chose not to make the move with them confident that he'd find work. His credentials are outstanding. His profile has been searched and viewed.
Yet, two years later, he's still unemployed.
I'm convinced his LinkedIn photo is costing him opportunities. More specifically, it's costing him about $100,000 a year. In his photo, he's staring straight at the camera unsmiling. His arms are held tightly against his side. The backdrop is dark and grainy.
He looks likes Vito Corleone – and not even as dapper (he's in casual clothing). He doesn't take LinkedIn seriously and it shows.
Read "Before you join LinkedIn, ask yourself this."
Nothing about his photo inspires trust. What's more, though he can command a high income and has worked with significant budgets, the photo itself looks like it was shot on an iPhone (3GS that is).
For a couple of hundred dollars – at best – he could have had professional shots taken.
My friend isn't the only one with a bad photo. I've seen photos of professionals in shorts. I've seen avatars and blank spots. I've seen people with their pets. I even saw an art director trying too hard to be creative by posting a photo of himself in a mask. I've also spotted a few family shots, which are only appropriate if you are, in fact, Vito Corleone (in which case, any picture's fine – obviously).
I'm hired to write LinkedIn profiles. People spend good money for a strong written presentation. Yet, so many don't appreciate the value of a strong visual presentation.
Your LinkedIn photo is part of your personal brand.
LinkedIn is a personal branding platform. Every photo featured, summary crafted, recommendation posted – even every comment written – become elements of your overall brand. Each one counts individually and must work together as a whole.
Before you post your photo, consider the objective of your LinkedIn profile and post a photo that's aligned with it.
Learn about defining your objectives.
What to wear
Determine the most appropriate dress code for your industry (business, casual, creative), as well as your position within it. Once you've identified the correct style, add colour or a personal touch to the ensemble so that it stands out just enough.
A couple of precautions:
Don't confuse creativity with silliness or gaudiness.
Don't confuse casual with boring, careless or cheap.
How to pose
The photos on LinkedIn generally tend to shot from a sitting position. For that reason alone a full body shot could give you just that slight edge of difference.
Either way, sit or stand straight up and with confidence. Don't rest your arms on your body. The shot could make the arm look flat and larger than it is. Instead, lift your arms slightly or position one on your hips. Angle your face and/or body slightly (looking straight at the camera can make your face look wide).
Finally, smile – no matter how serious your position, a warm smile is important. Social media has changed how people and companies do business. Even the most formal positions require show of personality and approachability.
Of note:
If you're not comfortable in front of a camera, pick your photographer based on both skill and rapport.
Where to shoot
For the most part a simple background that complements your clothing and complexion is perfect. However, in some cases, a background provides a great opportunity to add a layer of clear, quick communication.
For instance, if you work in forestry, having trees in the background helps your photo stand out and delivers a quick reference to your field. If you work for a car company, then a shot of you by that car drives home the brand your represent.
Using the backdrop to layer your message and set yourself apart is a standard marketing technique. However, it's only effective if the backdrop is simple and relevant.
A final word
Though this blog deals with your photo, it's important to note that every single part of your profile – from your photo and summary to the groups you join and the updates you post – all combine into one personal brand. So approach your LinkedIn profile as you would any marketing initiative.