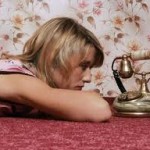 I read an online dating blog the other day chastising men to "man up". The writer gave a lot of good online dating advice and I agreed with all her points except one.
She thinks men should ask a woman for her number. I think that's a bad idea.
Generally speaking the rules of courtship apply to online dating just as they do to offline. However, you still have to remember that, while you're online, you're not actually dating. You haven't even met. As such, women, in particular, need to be very vigilant about their privacy.
When you happen to meet someone the traditional way, not only do you get the opportunity to get a sense of them in person, you usually have friends or colleagues in common as well. As such, giving out your phone number is a little less risky.
When you meet a potential love interest online, however, you're taking a much bigger risk. This is especially true for women.
(Read my post: 10 online dating safety tips every woman needs to know.) 
So what's a guy to do if he wants to take it offline?
Email her with a variation of the following:
Would you like to talk offline? If so, then would you prefer that I call you or that you call me. I understand if you'd feel safer with the latter.
This kind of email accomplishes three important goals: 1) It allows the woman to decide whether or not she'd like to speak to you 2) It immediately gives her a choice of how to do that 3) It lets her know that you understand boundaries.
To me, that's the truly gentlemanly thing to do.
Question for the ladies.
Are you comfortable making the first move?
Question for the guys.
Do you like it when a woman makes the first move or do you prefer to make it?
How to take it offline.
Going offline can only happen if you get noticed online. As an online dating profile writer with a background in marketing, I can help with that.
Have a look at my dating profile examples to see how I do it. Then check out my services – I offer everything from phone consultations where I review your existing profile to fully customized dating profiles using your words and anecdotes (so that it's honest).
Better still, just get started with personality questionnaire and send your answers to me.