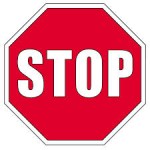 With Valentine's Day just behind us, the colour red gained momentum. So did all the myths surrounding it. The most unusual one is that which suggests women who wear red on their dating profiles are more likely to attract men.
Let's not forget that red also attracts bulls.
It's also the color of blood, dominance, power, anger, not to mention stop signs.
It's been said that red is the colour of love and passion. Actually, closer to the truth is that red is the colour of passion. Hence, while some articles and loose studies suggest that red makes women more attractive, the studies don't necessarily differentiate between sexually attractive and emotionally attractive.
So, unless you're on an adult hookup site, chances are you want to arouse the attention of men looking for love and not men looking for loving.
Does that mean you shouldn't wear red? No, of course not. Wear red. Wear blue. Wear orange. Wear whatever color suits you and makes you feel attractive because, in truth, confidence trumps color theory any day.
I read a blog by a woman who loves red and has always recommended it for singles dating online. She also wrote that she's had tremendous success with this color herself. However, this is a gorgeous woman with beautiful skin that lends itself to red. In addition, she's smart and elegant. My guess is that she could show up to a date in painter pants and still win a man over.
The best online dating advice.
When it comes to online dating, the best advice is to follow your heart and be true to yourself. The more you present yourself in a way that you feel good about, the more likely you are to attract someone who's looking for someone just like you.
And, by the way, unless a study contains a large group of carefully selected people, follows strict protocols and is peer-reviewed, the results usually are just theory. In addition, people often extrapolate data when writing some of these "dating" rules.
Question for you.
What's your favorite color (whether or not it suits you)?
How to be at your most attractive when online dating.
The best dating profiles are the ones that present in you in a positive light. As an ad writer and marketing expert, that's a skill at which I'm adept. In addition, as an online dating profile writer, I also know how to do it in a way that's engaging and honest. First I ask a lot of good questions. Then, I pick your best answers and craft a profile using your words and anecdotes. That way you go online with a dating profile that's dynamic, but also true to you.
Check out my online dating samples and see for yourself, or just go straight to the first step toward a great dating profile – my personality questionnaire – and then send your answers to me.