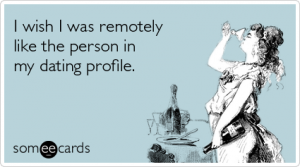 Usually I post excerpts from random dating profiles followed by a critique. I do this so that I can call attention to common online dating mistakes and, in doing so, prevent other singles from making the same ones.
Today though, I'm going to skip the excerpt and go straight to the critique.
I noticed something today that I see far too often –  online dating photos that carry  captions like "I no longer have a beard" or "I've since dyed my hair blond".
Why do people do that? Post a photo that looks like you. That's just basic common sense. When you scan dating profiles, the first thing to catch your eye is a person's looks. So don't catch a suitor's eye and then tell them you aren't quite as they thought.
More importantly, don't be so sloppy about finding love. If you're going through the trouble of looking online, then maximize every aspect of your presentation from picking truly attractive photos to crafting a genuine and interesting profile.
I cannot believe how many people go online and then expect complete strangers to overlook the blemishes – especially when there's so much competition out there.
So present yourself as best as you can.
A final word about putting together your dating  profile.
If you need help with your presentation, then start by completing the personality questionnaire. It costs nothing, yet it's an important first step in uncovering your interesting anecdotes and quirks. Once you're done, incorporate the best answers into your dating profile.
Better still, make it easy on yourself and be sure that you put yourself together perfectly by hiring me to help you. As an ad writer and marketing expert, I know how to put together a great presentation. I also write the profile using your expressions and anecdotes to do it. That way, you go online with an honest representation.
Check out my online dating samples and see what a difference I can make.