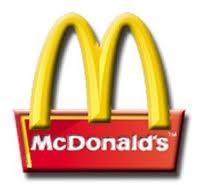 I write ads. I also write online dating profiles using subtle, but effective ad techniques (check out my online dating profile samples and see for yourself).
Here are  excerpts from an article I wrote for Betty Confidential where I was asked to provide tips on how to write an online dating profile that works.
Want to go from being one of many to being the one? Then do what advertisers do – market yourself. Chicken McNuggets are to die for after a night of clubbing, but food isn't what made McDonald's famous – marketing is.
So, when you craft  your online dating profile, don't just write about yourself, market yourself using these ad techniques:
Package yourself
In all the years I worked as an ad writer (before transfering my skills to online dating profiles), I heard a lot of strange conversations by graphic designers. They'd complain that the color green could no longer be used for nausea because environmentalists had hijacked it.  They'd also talk about logos in the same way that I talk …okay, okay "effuse" about Joe Manganiello.
Point is – packaging speaks volumes and you have to ask yourself what your online dating photo says about you. Women: cleavage pics don't say you have a good heart (same area physiologically, vastly different body parts). Men: wife beater shirts and ball caps don't say you're dressed well enough to go to the store let alone on a date.
So, take a great head shot. Take a great body shot. And, take this tip into consideration: add subtle messaging to your pictures. If you love hiking, post a photo of yourself outdoors. If you like dogs, post a pic with your pet.  We size things up quickly so maximize your opportunities.
Also check out: how to take a great online dating profile photo.
Target
There's a reason why ads for Home Depot don't appeal to children and that's because they aren't designed to. Advertisers craft ads that "target". That is, they promote a product's attributes so that they, in turn, catch the eye of the very people who find those attributes appealing. I use this technique when crafting profiles.
If you like politics, I make your interest clear on  your online dating profile. If you love 80's music, make that clear too.
I once wrote the dating profile a true, restaurant-hopping foodie. However, because he didn't want to turn off women who watched their diet, he asked that I keep this out – despite my objections. A few days later he wrote to me with a hilarious account of a disastrous dinner date with a super picky eater. Needless to say, he put his love of food back into the profile.
The lesson here is that you need to be specific about your passions and values so that you meet someone who shares them, or appreciates those aspects of you.
Be unique
A unique ad is a memorable one. The same is true of online dating profiles. The best way to be unique is through personal anecdotes. They're yours and yours alone. For instance, instead of listing your favorite activities (I run, I swim, I ski, I cycle. I sound like a tampon ad.), provide fun anecdotes.
I had a client who loved to cycle. One day, she fell off her bike and was helped up by none other than Spiderman himself, Tobey Maguire. Can you imagine just how much more interesting that anecdote added to her favorite activity!  Anecdotes are so interesting.
Be sure to include quirks too. They're fun and disarming.
Have a dynamic opener
When reading a newspaper or magazine, people tend to flip over the ads. That's why adverisers take great pains to grab them with a headline. In online dating, people see the photo, skip over the headline, and go straight to the first lines of copy.  That's why your opener has to be dynamic. For instance, how's this:
I've been skydiving, bungee jumping and white rapid rafting. Still, nothing gives me a rush like buttered popcorn and Freddy Krueger.
The best way to have a strong opener is to say what no one else is saying and the best way to do that is though anecdotes.
Check out samples of the best online dating profiles for more tips.
Stay fresh.
Good brands update their ads on a regular basis and you should too. Change words here and there. Add new interests or anecdotes. Post some new pictures. A profile on a site, like a product on a shelf, needs to be dusted off every once in awhile.
Proofread
Here are examples of profiles that I've actually seen posted on dating sites: "I like playing porker with the guys";  "I'm looking for an intelligant guy"; and my favorite, "It's not rock science".  Needless to say, I suggest that you proofread before you post. Here's how: read every word backward starting from last to first. Then read it through aloud.
There you have it – a few basic ad techniques so that your online dating profile stands out against all your competitors. Apply them and watch your inbox go from empty to full of promise. Better yet, hire me to write your dating profile. It's what I'm trained to do. Finding a job and finding love are the two most important things in life. Let me help you get that competitive edge.
Check out the online dating samples of my work. Better still, go straight to the online personality quiz. It seems like a gimmick. However, it's actually an ingenuous little quiz that uncovers some of your unique anecdotes and quirks, which make for a great online dating profile.