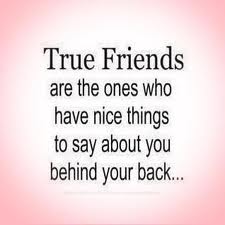 I've read a few dating profiles of late that begin with "friends say I'm…" Often this is followed by a list of positive adjectives. I even saw one profile the other day that read, "friends say I'm an adventurous 6 foot tall athletic male".
I looked at the photo and he was a woman.
Just kidding.
He was, indeed, six feet tall and athletic, but I doubt very much that his friends would describe him that way.
When I read these glowing reports from friends, three things come to mind:
1) I need new friends. Mine are not nearly effusive enough.
2) The chipper appraisals sound a little contrived. Do friends actually talk like that?
3) Can someone who doesn't even know you yet, be expected to care about what your friends have say?
I don't know where the "Friends say I'm" technique originated, but it needs to stop. As someone who has seen dating profiles that talk about C-sections, prison sentences and Viagra, it's not the biggest online dating profile mistake out there, but it's a mistake nonetheless.
In the competitive environment of online dating, you don't want to make the mistake of not being interesting enough. A list of adjectives is boring.  Add a tired and ineffective technique to that and you risk losing your audience.
In fact, sounding like everyone else is a mistake in any competitive environment whether you're looking for love or work.
Online Dating Profile Writing Tip 1.
I suspect there are two reasons why people use the "Friends say I'm…" technique.
The first is that people go online; see how others are writing their dating profiles; and then they do something similar to try to fit in. After all, putting yourself out there on a dating site can be disconcerting enough. Fitting in is more comfortable. What's more, in many situations, we're rewarded for fitting in. It's natural. However, in online dating, the goal is to stand out.
As such, my first tip is to be yourself and never, ever copy how other people are doing it. On a online dating site, if everyone's doing it, then they're doing it wrong.
Online Dating Profile Writing Tip 2.
The second reason I think people use the technique is that they aren't at ease with self-promotion. So, rather than risk sounding conceited, they credit their friends for the positive reviews. Yet, to tell people that other people speak highly of you can sound just as self-congratulatory as if you were doing it yourself.
Instead, promote yourself using what advertisers call "soft sell". You don't need to go online and brag. All you have to do is weave your accomplishments with a bit of humility. For instance, if you want everyone to know that you're a great good, then mention some of your best dishes along with a funny anecdote about a big miss. It gives you a chance to promote yourself, while balancing it out with just the right amount of self-effacing humor.
For more on that, have a look at this TV appearance where I give tips on writing your online dating profile.
Writing your online dating profile.
Writing about yourself is difficult enough, but add self-promotion to that and it can leave most people at a loss. That's where my service comes in. I start by finding the unique anecdotes and traits that make you engaging and attractive so that you stand out (and don't fit in!). Then I write the profile using your words and expressions so that it's all very true to you.
Check out the samples of my online dating profiles and see how I do it. Or, get started with the personality questionnaire and send your answers to me.
BE SURE TO READ