Anyone new to this dating blog, here's the scoop: I'm an ad writer. I also write online dating profiles using  ad techniques so that singles can compete online. I also write this odd little dating blog that combines news about men, women and (of course) advertising. Enjoy!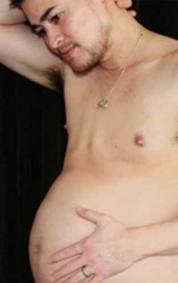 It's Mother's Day. Congratulations to all the women – and Thomas Beatie – who are celebrating motherhood at this time.  Also, a special mention to the biggest mother of them all: Rush Limbaugh.
While I'm at it, congratulations to new mother Jessica Simpson for not naming her child after a fruit or a plant.
While we're on the subject,  single mom, Bristol Palin, reacted to Obama's support of same sex marriage  by blogging:  "…kids do better growing up in a mother/father home."   In response, Chico Delainky tweeted:  "Bristol Palin is just envious that some babies have two dads & hers doesn't even have one" That's just the mother of all best ever responses!
Finally, in tribute to all things Mom, this week's dating blog:
Mama's Boys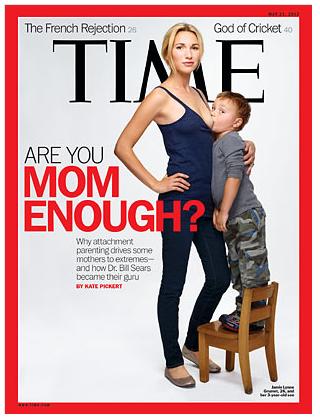 We've all heard that men are attracted to women who are like their mothers and this article on jezebel.com explores the notion. Personally, I also believe that men are attracted to the exact opposite of their mothers, but heck – why not take a complex psychological subject and summarize it into one big fat unfounded claim.
You'll note that I've used the most recent cover of Time Magazine. Not creepy at all.
Dating a Mom and Moms dating
An article on how to date a single mom offers such intellectually astute insights, as: you can't be a player anymore and don't pretend to like her or pretend you're interested. Of course, feel free to be a bad mother fudder (so polite!) to childless women. For single mothers dating, an article on babyzone offers insights with substance.
Tough Mothers
I remember being punished for dunking my face in my Mom's homemade cherry pie. At the time, I thought she had absolutely no sense of humor and was being way too tough on me. This article on warrior moms has changed my perspective a wee bit.
Big (hot) Mamas
No blog on motherhood would be complete without a section on big beautiful women. Though "big mamas" are most often associated to African American women, I'd like regardless of race with an upbeat article on askmen.com.
The mother of all cookie ads
South Korean marketing and communications agency Cheil Worldwide has released this ad for Oreo cookies with the tagline, 'Milk's favorite cookie.'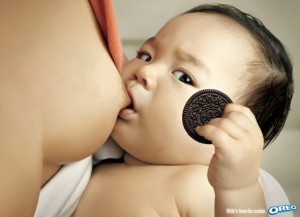 I'm sure you'll all hungry to know what this could possibly have to do with online dating profiles, but – like it or not – what makes this ad stand out is the fact that it take a typical message (our cookies are good) and delivers it in a unique way. Good profiles do the same (though not to this extreme!).
I've shown similar examples in former blogs, but it doesn't hurt to do it again so, for instance, a typical message might be "I hike, bike, ski and keep fit ". It then becomes unique when you personalize it "I like to hike with my one-eyed terrier called Pirate" (ummm…just to be clear – only add that if you do, in fact, have a one-eyed terrier called Pirate).
On a final note
For singles dating online, the best way to stand out is to craft a dating profile that's personalized to you – complete with all your playful quirks and most interesting anecdotes.
Better still, get me to craft it. Using subtle ad techniques (no hard sell!), I'm trained to get you noticed.  Start now by completing the personality quiz. It costs nothing to do, but will help you uncover some of those unique aspects.
Still not sure? Then check out the online dating samples of my work, as well as the LinkedIn profiles. If you like the blogs, then you'll like the tweets. I also encourage you to join me on Facebook.